The Wild Bunch
"The Wild Bunch" are a group of Midlands wildlife artists and friends, all members of The Wildlife Art Society International, who hold joint exhibitions of varied work.
The Wild Bunch have just finished a successful exhibition together at:
Floor One Gallery,
Rugby Art Gallery & Museum.
We fully enjoyed our fortnight's show, and were delighted with the response of the visitors.
Some of the comments in the Visitor's Book included:
"Lovely capturing of the beauty and wonder of nature"
"Lots of exciting techniques on display - an enjoyable exhibition"
"An inspiring exhibition"
"A stunning selection. Fantastic talents".
"Thank you - I love to witness art that captures the essence and "sense" of the animal - superb".
Now we are considering our options for an Exhibition together in 2019.
The Artists:
Sarais Crawshaw from near Rugby, works in acrylic, pastel, papercut and mixed media. She is particularly interested in British wildlife, and cats of all sizes.
Lesley Connolly from near Bewdley works mainly in pastel, acrylic, charcoal and linocut, putting life and movement into paintings of wildlife and farm animals.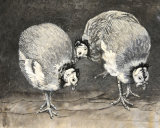 Chris Saunderson from Kenilworth has experimented with mixed media, acrylic and watercolour, and uses an impressionistic style in inventive work.