The Wild Bunch
"The Wild Bunch" are a group of Midlands wildlife artists and friends, all members of The Wildlife Art Society International, who hold joint exhibitions of varied work.
In 2019 two of The Wild Bunch were Artists in Residence at the Nature in Art Museum,
Wallsworth Hall, Twigworth, Gloucester, from 30th April till 6th May.
Sarais Crawshaw was working on Papercuts
Lesley Connolly was painting
The Wild Bunch Artists:
Sarais Crawshaw from near Rugby, works in acrylic, pastel, papercut and mixed media. She is particularly interested in British wildlife, and cats of all sizes.
Lesley Connolly from near Bewdley works mainly in pastel, acrylic, charcoal and linocut, putting life and movement into paintings of wildlife and farm animals.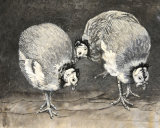 Chris Saunderson from Kenilworth has experimented with mixed media, acrylic and watercolour, and uses an impressionistic style in inventive work.